Posted On : March 03, 2020
Himachal Pradesh often refers to the Paradise of Honeymooners. Several places blessed with the magnificent beauty of nature always attract young couples, families and group of travellers. Be its pleasant climate, lush refreshing green surroundings, adventurous activities or the charming ambience; it has everything to make a couple's memories of a lifetime. We have a list of must-visit hill stations in Himachal Pradesh if you are a romantic couple.
1.Mashbora
Mashbora is the home to one of the largest watersheds of Asia, the Reserve Forest Sanctuary. The more tranquil end of Shimla, Mashbora contains nature's bounty. You can enjoy skiing in the valley, investigate its pine and oak tree forests and apple farms. Indulge into one another by holding hands and taking a walk around the Chadwick Falls.
How to reach:
Airport: The nearest Airports are Shimla and Chandigarh
Train: Closest Railway Station is Kalka Railway Station
Bus: State Transport organise buses on frequent basis.
2. Naldehra
Wish to spend some peaceful and relaxing time with someone special; Naldehra is the answer with the pine trees, lofty mountains in the lap of nature. You can also enjoy a horseback ride to capture some beautiful views of the snow-capped Himalayas. India's oldest Golf course with nine holes is also here. In the afternoon, its green valley will indeed give you an enjoyable experience with your better half.
How to reach: The nearest railway station is Kalka Railway Station but the best way to reach Naldehra is to hire a cab from Shimla.
3. Kasauli:
The beautiful Cedar and Pine forest of Kasauli make it the most loved hill stations in Himachal Pradesh. You can enjoy trekking, walk-in nature's lap, shopping local items and the delicious local food. Some of the highlights include Manki Point, Lover's Lane, Gilbert's Trail and Mall Road. You can also witness dense forests, colourful birds and rare pine species and exotic herbs.
How to reach: The nearest railway station is Kalka Railway Station. The closest airport is Chandigarh and needs to travel ahead by buses operated by the state transport.
4. Palampur
The magical and mystical landscapes of Palampur make it a perfect option for all romantic couples. Being blessed with the number of gushing streams, pine and deodar forests and aromatic tea gardens make it an ideal exotic getaway. Enjoy Paragliding in Bir or famous Triund Trek; this hill station consists of with natural beauty. It is renowned for the breathtaking Dhauladhar mountain range and tea gardens.
How to reach: The closest airport is Kangra. The nearest railway station is Pathankot Junction. It is well connected by buses from all the major cities of Himachal Pradesh.
5. Manali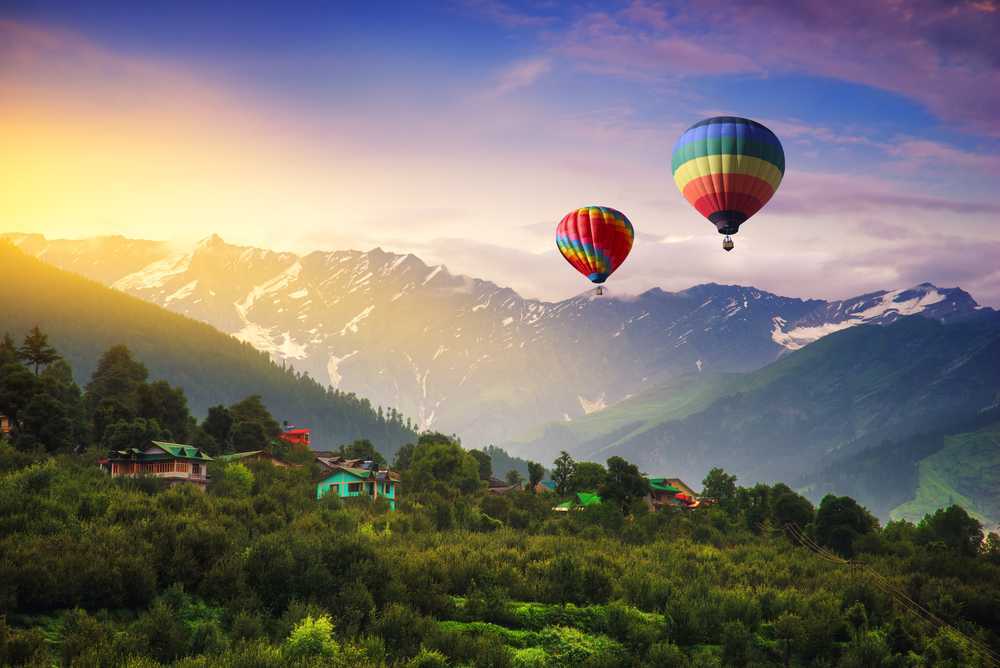 Being nestled in the bank of the river valley, Manali is the most visited romantic destination in India. Some of the exotic highlights are the short trek to Jogini waterfalls, kissing the nature at Van Vihar, exploring the picturesque village of Kothi, snow-clad view at Rohtang and the colourful birds at Manali Wildlife Sanctuary. The Atal Bihari Vajpayee Institute of mountaineering and allied sports, the largest adventure sports training centre is also here.
How to reach: You can reach here by bus the convenient way to enter via a flight to Kullu Manali Airport.
With so many things to do and explore beautiful hill station in Himachal Pradesh, there is no doubt that Himachal Pradesh is a favourite as well as the most popular destination for a romantic getaway. So why delay in the planning, contact Fortune Holidays Inn & Suites Holiday Ownership Expert for a memorable trip and honeymoon packages available on Fortune Holidays Inn & Suites.